Thornton thriving with Nats by throwing strikes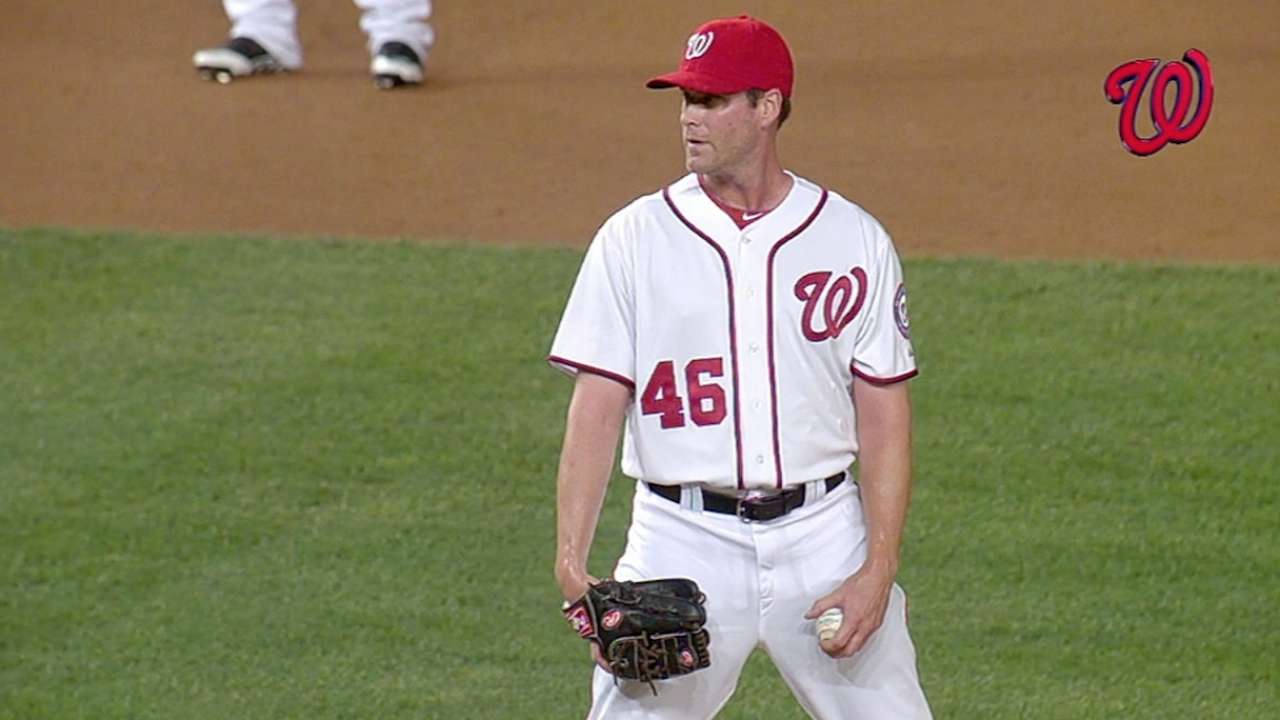 WASHINGTON -- Nationals reliever Matt Thornton entered in the top of the ninth inning Saturday night against the Giants with a comfortable four-run lead. But back-to-back singles from Pablo Sandoval and Michael Morse to open the frame prompted pitching coach Steve McCatty to visit the veteran lefty on the mound.
After a short discussion, Thornton refocused and needed just four more pitches to end the inning. He forced Joe Panik into a 6-3 double play and Andrew Susac into a flyout to center, clinching a 6-2 victory for the Nationals.
Thornton's ability to respond Saturday illustrated the 37-year-old's enhanced approach in 2014.
In 2013 with the White Sox and Red Sox, Thornton surrendered 15 walks over 43 1/3 innings. But more importantly, eight of those 15 walks ended up scoring later in the frame -- a number that impelled Thornton to question the way he was attacking hitters.
Quite simply, he needed to throw more strikes and use his high-90s fastballs to go right after hitters. And this season, the left-hander has issued only six walks in 31 innings, all of which came in a Yankees uniform before the Nationals traded for him via waivers earlier this month.
"Last year, I learned a pretty valuable lesson reiterating how bad walks hurt you," Thornton said. "One of my goals this year is to throw strikes no matter what the situation was to make them put the ball in play."
As a result, Thornton has thrived during his brief stint in Washington. Entering Sunday's action, the left-hander had retired 20 of 25 batters he'd faced as a National.
On top of his altered mindset, Thornton said manager Matt Williams has also aided his success significantly. During his time in Chicago, Boston and New York, Thornton was used primarily as a lefty specialist, largely because of his weak splits against right-handed batters. But in Washington, Williams has used Thornton less as a situational reliever and more as a full-inning one.
Only nine of Thornton's 46 appearances for the Yankees this season lasted one inning or more. By contrast, six of his eight appearances for the Nationals entering Sunday lasted a full inning.
"Any time you're a competitive person ... and people start telling you that you can't face a certain batter or you're on your way out, it kind of motivates you and pushes you to go out and execute," Thornton said, "and continue to show that you can throw a full inning."
Daniel Popper is an associate reporter for MLB.com. He also can be found on Twitter @danielrpopper. This story was not subject to the approval of Major League Baseball or its clubs.