Nationals plan to let Roark keep pitching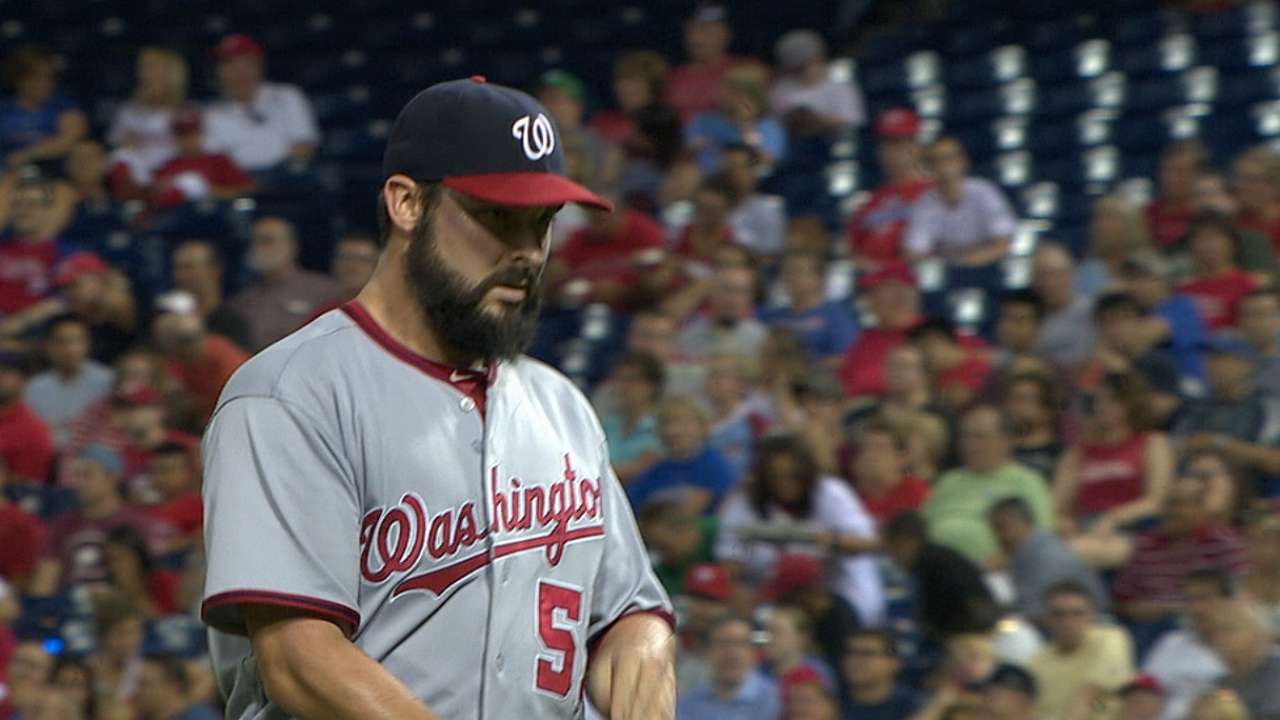 PHILADELPHIA -- After Monday night's outing, Tanner Roark moved further past his previous high for innings in a single season. In 2013, the right-hander threw 159 1/3 innings between Triple-A Syracuse and the Major League club, but his six-inning effort Monday night gave him 166 2/3 innings with the Nationals this season.
Roark, who has gone at least six innings in 20 of his 26 starts and has pitched seven or more in 12 outings, has a 12-8 record, a 2.81 ERA and a 1.09 WHIP in 2014.
"We are in the business of winning games and we're going to continue to give him the ball and have him pitch for us because he's been really, really good," Nationals manager Matt Williams said. "But we have to keep on eye where he gets to and how many innings he gets to."
Williams said the 27-year-old's workload is being monitored, but he won't be skipped in the rotation at any point.
"Because he's in uncharted territory and he's never been here before, we'll try to, within the game or within his start, try to help him out if we can," Williams said. "But geez, if he's 75 pitches through seven and we're in a tight game, there's no reason just to take him out because he's pitched well to get there. So we want to give him that chance.
"There may be situations like that if we have a lead, a good lead and he's through seven, we may not send him out in the eighth. So that's what I mean. Not necessarily skipping him, but being mindful of where he's at, innings-wise, pitch-count-wise. And if those situations arise, then look at potentially getting him out of a game if we're ahead and if we're comfortable in that regard. In that regard, too, we also have to be mindful of the back of our bullpen, which is important, too."
Erik Bacharach is an associate reporter for MLB.com. This story was not subject to the approval of Major League Baseball or its clubs.