MLB.com Columnist
Bill Ladson
Clippard driven to steer Nats to World Series summit
Setup man appreciates being part of club's rise after joining at low point in '08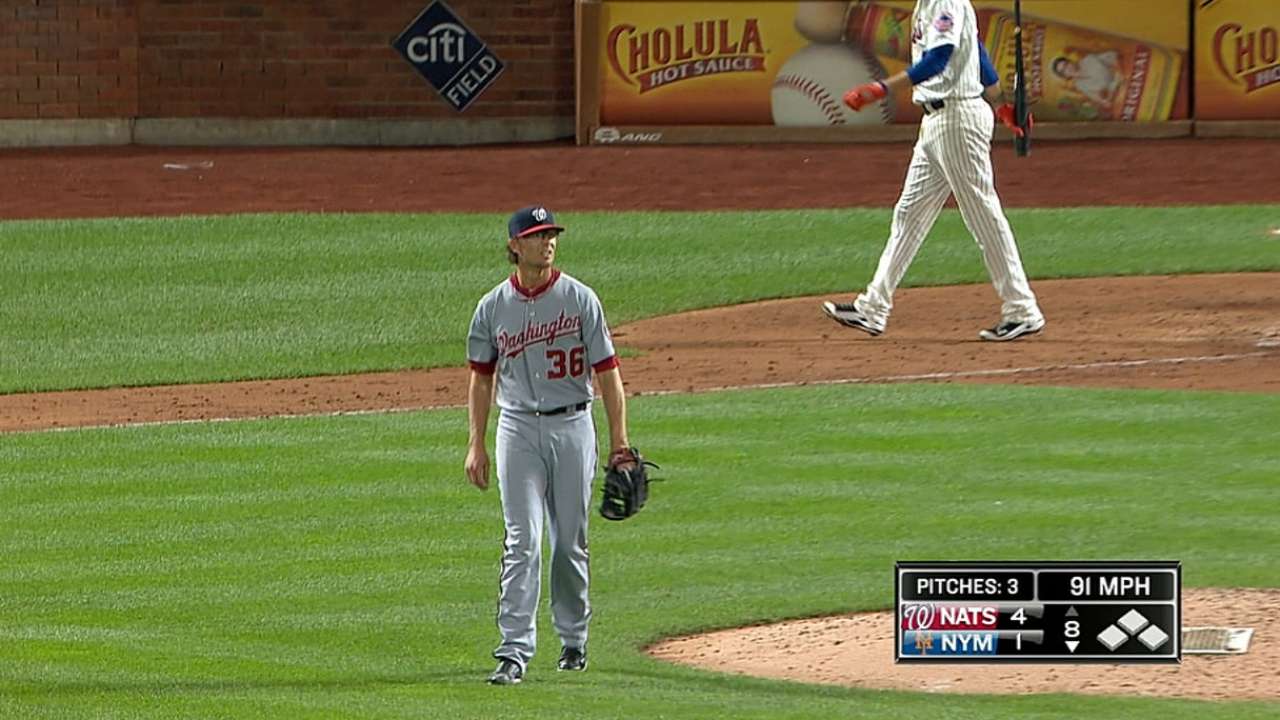 LOS ANGELES -- Nationals reliever Tyler Clippard made it clear Wednesday morning that he wants a World Series ring. After Ryan Zimmerman, Clippard has the longest tenure with the Nats, having joined the club in 2008, when the team was the worst in baseball.
As Clippard put it, he saw this team go from the ground up. Entering Friday's action against the Phillies, the Nationals were seven games ahead of the Braves in the National League East race. The magic number to clinch the title is 17.
"Coming into this organization, when it was in shambles, I would be proud to say that I was on the ground floor of building a dynasty in Washington," Clippard said. "That's what we've been building toward since I got in the door here in 2008. There have been small stepping stones.
"We are kind of on the precipice of maybe doing some of those things, and it has been fun to be a part of. We want to seal the deal. We have a long way to go. So many things can happen. The light at the end of the tunnel could be very good."
Clippard is one of the reasons the Nats are close to winning the division title. The setup man is arguably the best reliever on the team. In 64 games, Clippard has a team-leading 31 holds, a 2.09 ERA and 72 strikeouts in 60 1/3 innings.
It helps that Clippard gives the opposing hitters different looks when he is in the game. He has an arsenal of pitches -- fastball, changeup, slider, splitter and cutter. Clippard is throwing his breaking ball more for strikes than he has in the past.
"I feel like it's a normal season," Clippard said. "I'm happy with it. I always have things I want to be better at. I think I have done some of those things this year. There have been spots where I was unhappy with the results, but that's just the baseball season in general. I can't be too disappointed in it. Overall, I feel like it has been more consistent. Everything kind of lines up like it has in the past and that's what I'm most proud of."
While Clippard loves his role as a setup man, he made it known that he would like to be a closer again. He had the role with Washington in 2012. Clippard saved 32 games, but he slumped so badly that he lost the job by the time the team reached the postseason.
Clippard lost command of his fastball and he called himself a one-dimensional pitcher during his slump that September. He relied too much on his changeup.
"I didn't have a breaking ball to go to," Clippard said. "I completely lost confidence in the cutter, which, earlier in that season, I was throwing a lot for strikes. I just didn't throw the curveball at all. I couldn't throw that for a strike. I was out there with one pitch or half of a pitch at times. It was a rough stretch.
"Unfortunately for me, it came at probably the worst possible time -- in a pennant race and coming into the playoffs, when your team needs to have a reliable closer. Toward the end of that month, I got back on track. I pitched well, but it was too little too late at that point."
It will be interesting to see what happens next year for Clippard. Would the Nationals give him the closer's job if Rafael Soriano isn't back? Only time will tell. After next year, Clippard has a chance to become a free agent. He would like to be a member of the Nats for a long time.
Clippard and the Nationals have not talked about an extension. But he said there isn't any need right now because the team is in a pennant race.
"I've been on the team -- as a big leaguer -- longer than anybody else except for Ryan Zimmerman, and I'm proud of that," Clippard said. "I feel like I've been a big part of the transition and it's home. I don't know any other big league club. I was in the Yankees organization and I was in the big leagues [with New York] for two months. Washington is my home. The Curly 'W' in this family is who I am. I would love to stay. But at the same time, it's a business. You never know what's going to happen. This is where my heart is."
Bill Ladson is a reporter for MLB.com and writes an MLBlog, All Nats All the time. He also can be found on Twitter @WashingNats. This story was not subject to the approval of Major League Baseball or its clubs.